INTRODUCTION
Early this week, famous Nigerian comedian and skit maker Chukwuemeka Emmanuel, popularly referred to as Oga Sabinus made headlines over the internet with respect to his demand notice to Friesland Foods Wamco Nigeria Plc for payment of one billion naira as compensation and damages for unauthorized use of his trademarked slogan "something hooge" while promoting their Peak Milk product as seen in the images below.
In addition, Sabinus has also made a demand for the sum of one hundred million naira from UAC foods, for using his animated image in an advert for the gala sausage roll.
It is important to clarify at this point, that at the time of writing this post, no lawsuit has been made against either of the companies despite recent headlines. What Oga Sabinus through his agency has communicated to the alleged defaulters is a threat of a lawsuit.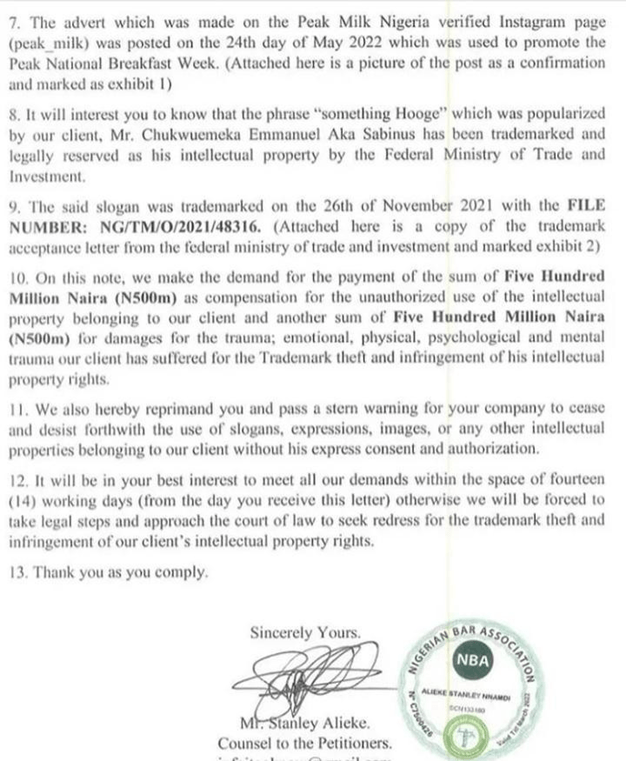 This has however brought mixed reactions for and against the demand notice. For some, the amount requested is outrageous, for others Oga Sabinus would not win should he decide to institute an action in court for several reasons.
While it is quite early to predict the outcome of recent events as there is a lot that happens behind the scenes when it comes to cases such as these, it is exciting to note that Nigerian artists are becoming aware of the relevance (particularly in monetary terms) of having their brands and intellectual property protected.
Whatever be the outcome of the case, there is much that old and upcoming creative artists should learn from the recent turn of events and we would be considering them below.
LESSONS CREATIVE ARTISTS SHOULD LEARN FROM OGA SABINUS' INTELLECTUAL PROPERTY INFRINGEMENT CLAIMS

In Nigeria, there are 4 primary means of protecting intellectual property which are; trademarks, copyright, patent, and industrial designs. Each of them are applicable in different circumstances. Trademarks protect words, symbols, phrases, designs, or a combination of all. Copyrights protect literary, artistic, and musical works, films, sound recordings, and broadcasts. Patents protect inventions e.g Bluetooth, iPhone, self-driving cars, 3D printers, etc. Industrial designs protect the aesthetic aspect of an article or item such as; the contour of a coke bottle, the two-dimensional features of a textile print, e.t.c
In order to enjoy exclusive ownership rights on your artistic work, you must register such work in either of the above-mentioned categories i.e as a trademark, copyright, patent, or industrial design.
Concerning trademark registration, there are 45 distinct classes of goods and services in which an applicant can register a mark. Trademark registration in one class does not cover all classes. Hence, to increase your scope of trademark protection, you must register in one or more trademark classes by filing separate applications for each class.
Should you opt to register your mark in one out of the 45 trade mark classes, say class 36 for instance, and another party chooses to register a mark similar to yours in another class, or use the same mark to promote a product or service in a class outside the scope of class registered (as was the case with Friesland and UAC Foods), the latter cannot be held liable for the violation of any form of trademark infringement.
An artist, company, or private individual who wishes to use/adopt other brands or intellectual works for commercial/collaboration purposes must conduct due diligence to ascertain whether or such work is registered and if so, obtain consent where necessary before using the same. The last thing you need as an artist is to be branded as stealing the intellectual works of others.
Your intellectual work has financial value, don't take it for granted. I'm sure you're familiar with many Nigerian artists who are making fortunes from their brands through endorsement deals, licensing, and outright sale of royalties of their intellectual works.
Images enjoy copyright protection so long as they are in a fixed medium of expression and need not be registered to be qualified for such protection in the first place. We talked about it extensively here.
CONCLUSION
Despite numerous cases of intellectual property rights abuse, the financial potential of your intellectual works cannot be undermined. However, general knowledge about the subject is not enough as there are several complexities involved within this terrain.
It is therefore important for artists to seek professional help when it comes to crafting an effective and reliable intellectual property strategy as they chart their path to success in their respective industries.
Need help in this regard? You may CONTACT US and we would be delighted to assist you.
LINKS TO RELATED ARTICLES